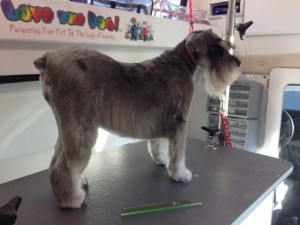 If you are not familiar with a mobile grooming salon, you don't know what you are missing!  You and your pet will love it.  Most grooms take between 1 to 2 hours.  If your pet is older and/or especially hairy or hasn't been groomed in a while, it will take longer. But no longer will you and your pet have to spend the whole day away coming home exhausted.  In my new, state-of-the-art mobile grooming salon, your pet will receive a world- class, custom grooming in a warm, loving environment.  And I come to you! My mobile salon is equipped with all the tools I need in order to provide your pet with a luxury service. At my fingertips are the climate controls for your pet's constant comfort, a hydraulic grooming table, for lifting ease, fresh, hot and cold water, a stainless steel bath tub with a super-sudser for a bubbly bath, a clipper-vac system to minimize hair clippings in and around the salon, and a fluff dryer to leave your pet's coat shiny, clean and fluffy! I also use the best professional quality pet shampoos, conditioners, sprays, clippers, brushes, combs and scissors for perfect finishing. And, to make your pet feel right at home, we'll be listening to some pretty cool music from the on-board stereo system.  When all is said and done, I will provide your pet with a look that will leave your friends and neighbors asking "WOW, who groomed your dog?" So no need to worry and don't bother to leave home.  I will come to you in my mobile grooming salon where I will love to groom your dog (and cats too)!
---
My Pampering Service Includes...
Trim hair around pads and feet
Trim nails
Clean ears
Sanitary trim
Pre-bath brush and comb
Express anal glands, if needed
Luxury bath and condition
Warm fluff-dry
Post-bath brush and comb
Light trim of feathers and around eyes
Apply bow or scarf and nice spray
A kiss, hug and a treat
---
My Extra-Special Pampering Service Includes...
My Pampering Service as listed above, plus an AKC breed specific hair cut or other hair cut of your liking.
---
Pricing...
My grooming is based on an hourly rate so please call for pricing. Service fees also apply. Additional fees apply for these procedures:
Undercoat removal
Mat removal
Tick removal
Waste removal
Medicated (flea/tick/skin/etc.) shampoo
Furminator/carding/hand stripping
Teeth Brushing
Ear Flush
Emergency pet cleaning/de-skunk
Nail clip
Hard to handle/geriatric
Extensive hand scissoring/patterns
No-shows
Saturday Fee
Returned check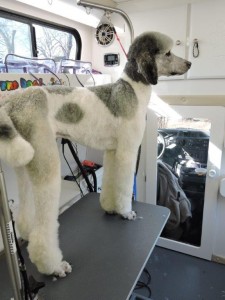 ---
Some Pampering Details...
Current vaccinations required.
Your pet should be on a heartworm and flea/tick preventative.
Price quotes given on the phone are estimates only and may be higher depending upon physical inspection of your animal. Variables are pet's size and demeanor, condition of coat and amount of coat.
Unfortunately, my van is not big enough to accommodate super large and/or aggressive breeds.  Including but not limited to Chow Chow, Sheepdog, Puli, Mastiff, Newfoundland, Saint Bernard, Great Pyrenees, Bouvier, Bernese Mountain Dog, Spinone Italiano and aggressive cats.
 In an initial phone interview we will discuss services, pricing and a convenient appointment time.   Please advise me of any allergies, sensitivities or pre-existing medical conditions your pet may have.
Please advise me of your pet's prior grooming history so we can avoid any unpleasant grooming experiences you or your pet may have had.
I will arrive as close to the scheduled appointment time as possible however keep in mind that delays are inevitable since I am coming to you and possible rescheduling may occur.  I will never jeopardize the safety or well-being of my clients pets by rushing a groom or rushing to the next appointment; I will text or call you to advise you of any changes to my arrival time.
Please cancel your appointment 24 hours prior to your scheduled appointment in order to avoid a no show fee.
Payment is due at time of service.  I cannot hold checks.
Waiver required.
To avoid any extra grooming fees, please request to be placed on a 4, 6 or 8 week grooming schedule.