Linda came to our school from the corporate world. She was ready to make that BIG move from a job to a career. She has a passion for animals and a head for business, the Pet Care field was calling her. I knew from the first interview that she would do well. As she passed though the school, she was the one who could take on the challenges. She does not fight with the dogs personality, but instead calms them. Her hands are loving hands. Her voice is playful and encouraging. When she has completed her work, our clients pets were well groomed and happy. She will take good care of your "baby".
Sincerely, Linda A Law, NCMG, Director and Owner, Canine Clippers School of Pet Grooming.
---
What our Customers are saying!
What our Furry Friends are saying!
Linda has been grooming our five dogs for several years now. We love the convenience of a mobile service but we particularly love the fantastic job that Linda does. The dogs look terrific when she is done!! She is also great with the dogs. She is gentle and patient and gives each of the dogs lots of TLC. They all love her. We feel very fortunate to have found Linda and can't imagine using anyone else to groom our pups. - JB, VA
Linda, from Love the Dog! Grooming is an amazing groomer! She is wonderful with our dogs Faith (Standard Poodle) and Roxy (Teacup, Yorkie). She has been grooming Faith for 7 years and Roxy for 5 and has done a perfect job on them every time! Linda is extremely professional, reliable, and a perfectionist when it comes to grooming. Faith and Roxy love her and are always happy to see her every 4 weeks and so am I. - MM, Gainesville, VA
I must say, Linda at "Love the Dog!" is an amazing concept, we have 4 dogs and 1 cat, and the fact that she can come here weekly to bath, clip, pamper our pets is fantastic. The animals love the attention, and gentle care there given. Living on a farm, the animals get into all kinds of stuff and I am always happy to see her van in the drive way. I would highly recommend Linda. - DVM. The Plains, VA
We love the personalize care and attention Love the Dog! provides to Nike and Athena. Love the Dog! always takes the time to work Nike and Athena's different personalities and ensures they always have a positive experience. I highly recommend Love the Dog! - JF, Haymarket, VA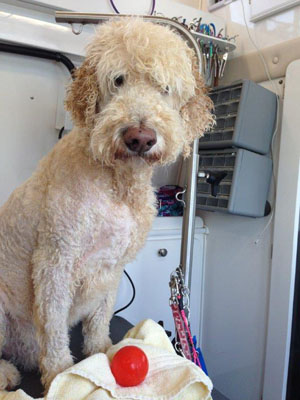 When I was a little pup, mom used to take me to one of those big pet stores to get a bath. They never could figure out how to cut my fluffy, curly hair. Then mom found Linda. I bark with excitement when I hear her van coming. The best part is she lets me bring my favorite ball with me. I am an old guy now, but Linda always takes great care of me. I am super soft and smell so good afterwards, my boys cuddle on me for days. I am such a lucky, pampered dog thanks to Linda!
- Winston
As owners of two Shelties, we could not be more pleased with the gentle, loving care given by Love the Dog! to our boys. Our boys are both 12 years old. Quincy has severe arthritis while Clancy has a heart murmur and has had a hip removed. Both boys look lovely after their grooming and look like they could win the grand prize for Shelties. Linda is amazing, patient, caring and always gentle with them. We feel blessed to have her as our groomer. - J&M G, Haymarket, VA
We have used Love the Dog! for several years and found Linda to be kind, compassionate and skilled in dealing with our dogs. Our dogs are excited to see Linda and they return from her truck looking (and smelling) beautiful. Although both dogs have completely different types of fur, Linda showcases the best of each of our beauties. It is convenient for us and far less stressful for our dogs to have the groomer come to us. We enthusiastically endorse Love the Dog! - PW, Catharpin, VA
I would love to say something wonderful because it is true!!! - MO, The Plains, VA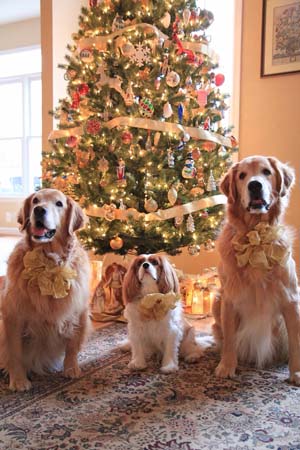 Birdie, Bogey and Kaddie here. We would like to say Linda is the best! We are all therapy dogs and do obedience so it is really important that we look good and have our nails done. Kaddie does not like her nails done but Linda makes it fun! We love it when she comes!
- Birdie, Bogey and Kaddie
Love The Dog! mobile grooming is the best! Linda is so kind to the dogs...they love to greet her and eagerly climb into the van for their "spa" appointments! The van is spotless and the level of service is the highest possible. It is affordable and the convenience cannot be beat. I highly recommend Love the Dog! - SK, Warrenton, VA
When I see the Love the Dog! van pull up to our front door I know our precious dog is going to be well cared for. Linda loves Lucy like she were her own pet and that gives us a peace of mind. Knowing that your dog is groomed by a certified groomer is the icing on the cake. Knowing those 4 paws are in those 2 hands... Priceless. - CB, Midland, VA
My dogs are so happy to have the Love the Dog! grooming van come to our home. So much more comfortable for them to not go away for the day!! We are loyal customers! - AG, Warrenton, VA
Bella has been getting groomed by Linda at Love the Dog! for years now. At the beginning she was a bit scared but now she even wags her tail. Linda is so fabulous, Bella always looks perfect afterwards. Not only does Bella love her, I do too! She's trustworthy, fun, professional and sooo convenient. Gotta be honest, sometimes when her cute mobile unit shows up , I wish I were the one getting a nice wash, cut and blow dry!! - SB, Gainesville, VA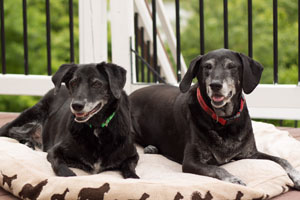 Getting old isn't easy...even if we are puppies at heart. Thankfully Linda comes to our house and trims our nails in the comfort of our own home. She is kind, gentle, and gives the best pets. We highly recommend Linda!!
- Nike and Athena
We've been using Love the Dog! for about 5 years and we cannot rave enough about how fabulous Linda is. She is always on time and our dogs (that are practically family) love her! Malcolm our special boy has separation anxiety and cannot go far from home to be groomed. Love the Dog! has allowed for Malcolm to stay close to home, which makes him much more comfortable and is exactly what we need. Ultimately Love the Dog! has been incredible and we highly recommend Linda...she's the best! - LC, Gainesville, VA
Recently, our beloved standard poodle was diagnosed with lymphoma and underwent four months of chemotherapy. His hair came out in hunks and he was patchy and bald everywhere. Linda at Love the Dog! groomed him with such compassion, kindness, and skill. Even though he had lost a tremendous amount of hair, she made him look beautiful again. Now that our dog's cancer is in remission, his hair has started to grow back in, and Linda continues to make him look amazing. I would recommend Love the Dog! without hesitation! - FK, Gainesville, VA
Linda's mobile dog grooming service is appropriately named. She loves my dogs and my dogs love her! The service is convenient, her van is spotless, and when she's done my two Papillion's are beautifully groomed! Would I recommend Love the Dog!? You betcha! - SS, Warrenton, VA
Linda is truly amazing! She has been grooming my Golden doodle for over 6 years. He has a difficult coat to maintain, and after years of struggling with pet store groomers, Linda was an absolute dream to find. Not only does she do a fabulous job grooming him, she is so kind and patient with him and it really shows her love for animals. He absolutely loves to hear her van pull up, and it makes me so happy to know he is pampered by her. I couldn't imagine ever letting anyone else groom him! - AW, Gainesville, VA
My little Bichon looked like a show stopper after being groomed by Linda of "Love the Dog". He was groomed just as I wanted. Thanks Linda! - EJ
Linda....we had farm dogs....we now have the most beautiful dogs in the world...What a great job. I have recommended you to all of my friends! - EB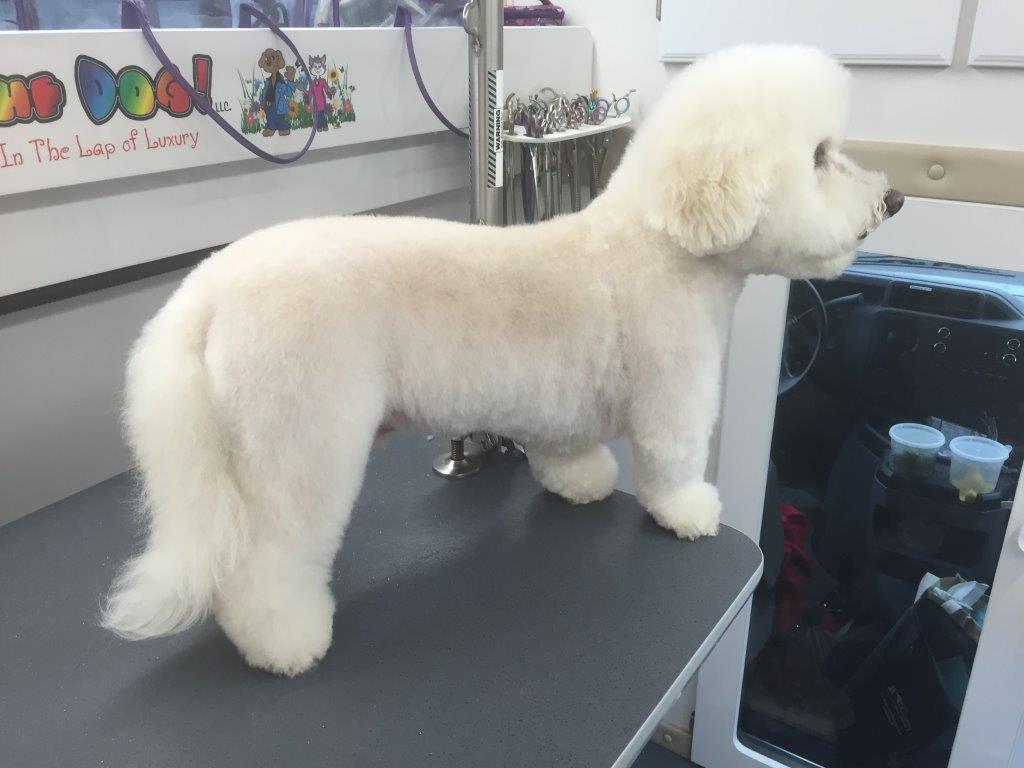 Hi! My name is Drake! My mommy and I love Ms Linda and Love The Dog Mobile Grooming! I am always glad to see her! She is loving and gentle and always makes me look and feel extra special! She is wags above the rest!
- Drake
Linda, Thanks for washing and cleaning up our three dogs. I was amazed that they did not go out and roll in the dirt the way they do every time I wash them. Your products and equipment make a tremendous difference! Put us on a monthly program. - BF and JF
Mobile Pet Grooming Salon, what a great idea!! I've never had my two cats groomed because it's hard for me to gather two cats up and take them somewhere else then find the time, around kids, to go pick them back up. This was a wonderful experience for me and I will totally use Linda's services again and again!!! - AS
My two Bichon Frises are groomed by Ms. Hoisington. They are six years old and never have they looked so precious after being groomed. - A super grooming. KLD
Regular good grooming is an important thing we do for our dogs. I doubt we could keep up with it were it not for your incredibly convenient service. Its much easier on us and the dogs. Thanks very much. - GR and PR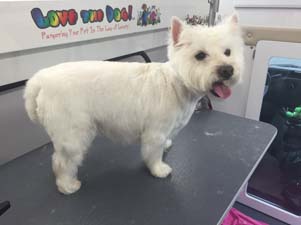 I get so impatient for my next grooming appointment with Linda. She makes me feel ever so special plus my mommy always takes lots of pictures when I am all done and posts it on Facebook so everyone can see how handsome I look.
- Oliver
My family and I started using Love The Dog two years ago after we had our third child and really felt our two dogs were being neglected because we couldn't seem to find the time to groom them properly. Their coats were getting dingy and stinky, their ears were dirty and worst of all, their nails were getting really long. Cutting the nails was always a fiasco at our house. - IK
Linda Hoisington of Love the Dog has been grooming my two large dogs for the past 2+ years. She is dependable, accommodating, patient, caring and very professional. I like the convenience of having her come to my house so that I don't have to stress my dogs out by taking them elsewhere for grooming and she always does a beautiful job. I completely trust Linda with my dogs and have referred her to my friends. - AK
We had heard about mobile groomers so we called a few in the area none of them were as responsive as Linda. She called us right back, set up the appointment and we started the next week. She comes once a month and my dogs love her to death. They love to be pampered and she gives them the extra love and attention they need.Their coats look amazing now and I never have to worry about their nails. It is a win-win for us. She is so cheerful and you know when she shows up that she truly cares about our dogs. - VR and HR
Linda - We wanted to write and tell you what a wonderful service you provide our family with Love the Dog. Our place is home to four frisky dogs that are allowed to run in a big fenced yard and then collapse into any lap that will take them. We all look forward to your regular visits for grooming. The convenience of having only to hand the next dog over to you at the door makes it possible for us to keep them all well groomed all of the time. In spite of each dog being a different breed, with different requirements, your service is thorough and just what each one needs - from the long-hair Tibetan Spaniel who needs lots of styling, to the elderly short-hair mini-pincer who needs lots of TLC. The dogs always return looking and smelling great, and its comforting to know you have checked them over. - GR